Be Exam-Secure!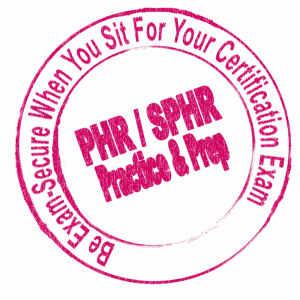 Go into your PHR or SPHR certification exam well-prepared and confident! Our PHR /SPHR Practice Exams and Quizzes enable you to get comfortable with the pace and knowledge required to pass these most prestigious exams.
Our practice exams and quizzes provide instant feedback on HR strengths and areas where you need further study.
Not sure which exam is right for you? No problem! Our bundle provides you with both sets of exams for one low price. Take them both and decide whether you are PHR or SPHR ready.
The content developers and HR Subject Matter Experts here at BeAuditSecure.com are proud to offer you a practice exam bundle to cover all of your evaluation needs. Each of our certification practice exams (PHR and SPHR) offer two modes of testing:
Exam Mode: Take a timed practice exam or quiz and, upon completion, receive your individual score report, providing you with performance insight for each content area of the exam.
Practice Mode: Take a non-timed practice exam or quiz, and focus – at your own pace – on difficult questions and areas of weakness, and receive explanations about the correct answers.
First, take a timed exam and then turn to Practice Mode for further exam practice and benefit from an explanation of the correct answers.
If so, you may enjoy a few of our practice exams at NO EXTRA CHARGE!
OR
 Our advanced package includes 12-Months Access to:
Two 175 Question PHR Practice Exams – Timed and Untimed
Two 175 Question SPHR Practice Exam – Timed and Untimed
One 125 Question PHR Practice Exam
One 125 Question SPHR Practice Exam
Three 25 Question PHR Quizzes
Three 25 Question SPHR Quizzes
One 15 Question PHR Quiz
One 15 Question SPHR Quiz
Feedback on Practice Exams Showing Areas of Strength and Weakness
PLUS 700+ eFlashcards Broken into the 6 Functional Areas AND Bundled together
Log in
or
Register
to save this content for later.